XWP is excited to announce a pilot program to help publishers of all kinds adopt Google Web Stories onto their WordPress websites.
Web Stories allow you to feature full-screen video, photos and audio seamlessly: From sizzling tasty food to impressive drone flyovers—leveraging the tappable, immersive format makes it feel like you're somewhere else without leaving your phone. This tappable story format built for the open web allows for deeper storytelling without the need to have a complex development team behind the scenes.
"XWP is bringing the expertise needed to effectively build for the WordPress ecosystem," – said Paul Bakaus, Senior Staff Developer Advocate at Google. "[They have] been an essential partner for bringing Web Stories for WordPress to market at a rapid pace. We're excited to continue our fruitful collaboration."
The Purpose of This Pilot Program
XWP has worked closely with Google since 2018 in developing tools for publishers to use and deploy Web Stories onto their sites, focusing on turnkey activation, editorial workflows, and ease of use. With releases shipping new features every month, this plugin allows you to enable fast, delightful interactivity without writing complex code.
"Publishers use Web Stories because it's a great way to show impressive visual narratives," said Amit Sion, Chief Revenue Officer of XWP. "This program empowers brands of all kinds to use this format—an easy, beautiful way to connect to audiences with a clear return on investment."
XWP and Google have focused on making publishing Web Stories as easy as possible. Additionally, the plugin has integrations available for both WP Core and Yoast sitemaps. Finally, support for monetization through AdSense and Ad Manager are built in, as well as advanced parameters for Google Analytics to provide your team with insights into Story performance. As part of this program, XWP is developing additional materials for teams across the globe on how to get started and take full advantage of all the Web Stories features.
Who Can Benefit Most from Web Stories
XWP, the agency behind the fastest, most advanced WordPress sites on the web, has helped many top brands over the years through the launch of digital transformations—From Rolling Stone and Heavy.com to Vice Media and Beachbody on Demand.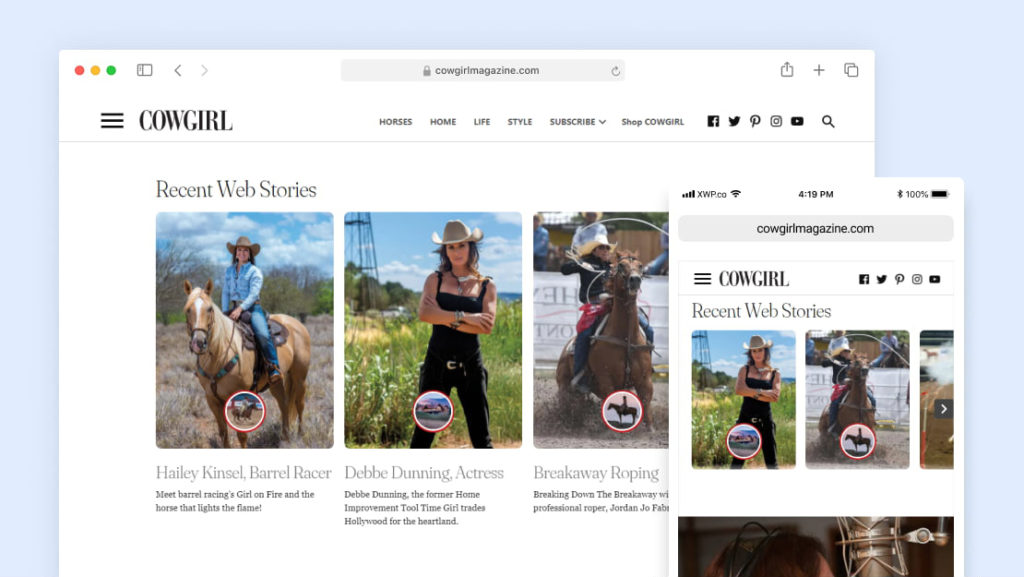 From larger publishers like the Dow Jones group (Wall Street Journal, Barrons, etc.), to smaller organizations like Cowgirl Magazine, XWP can support you in deploying and optimizing Web Stories with both users and scale in mind.
"We all came together as one team, and the level of collaboration was exemplary," said Victor Maldonado, Global Product director of NewsPress for NewsCorp. "Kudos to everyone who was involved."
XWP's support for Web Stories activation ranges from plugin installation and site activation, to custom integrations and staff training. Program participants should be interested in installing and activating the WordPress plugin, with a content development team ready to publish engaging media. XWP will provide best practices and ensure your team knows how to get the most out of the plugin.
"Publishing is a tough business," said owner Ken Amorsano of Cowgirl Magazine, one of the first Web Stories Publisher Pilot program participants. "There are a lot of moving parts, and you can't afford to not have a hand in the development of your website. Me and my team, we were right in there with [XWP]."
If you'd like to be considered for the next cohort of the Web Stories Publisher Pilot program, contact us.