Everyone agrees that companies need to have a digital presence if they want to remain competitive, but the medium is as tough as it is fair. People need to be alert and anticipate changes that can spell the difference between standing out and getting left behind.
This is where the XWP team comes in. They are the guiding hand that helps businesses scale better and have everything they need to grow digitally. Because of this approach, they're getting glowing reviews from their partners—like the one below from Google.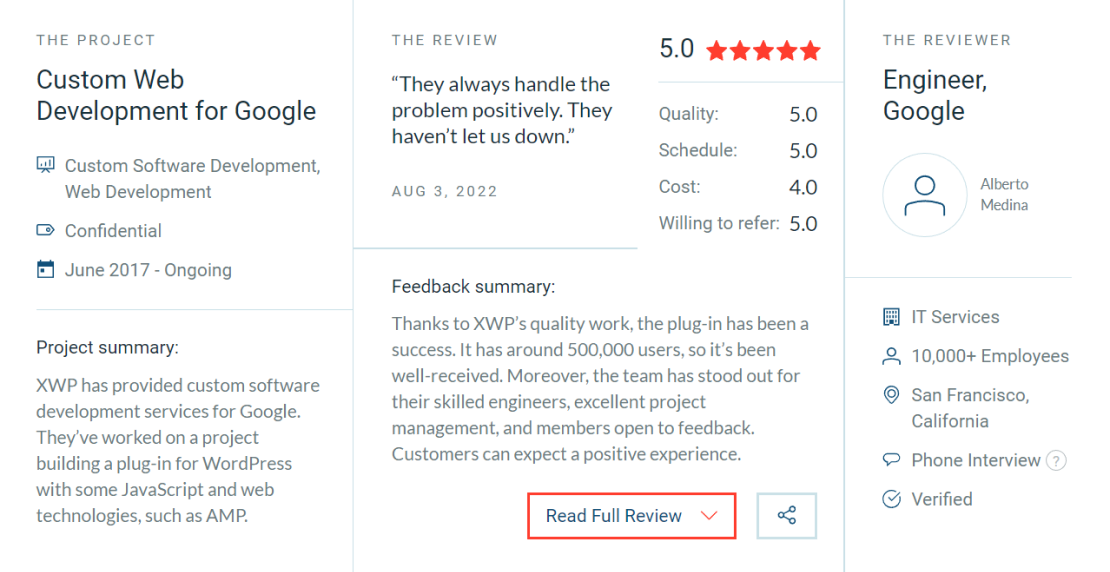 XWP has a long-standing partnership with the team at Google and has helped them to create a number of plug-ins for the WordPress ecosystem.
There's too much history between XWP and Google for us to give their story justice in this one short post, but if you're interested you can check out XWP's case studies (Web Stories for WordPress / AMP for WordPress) or read the full review from Google on their Clutch profile.
One of the developments that we do want to highlight here though, came about as a result of this review getting published. Thanks to the high collective score they've earned on our profile, XWP was recently listed on Top Design Firms as one of the Top Web Development Firms in Australia.
Web development is an industry based on reputation. Companies have thousands of vendors to choose from and third-party reviews on sites like Clutch are a huge help when it comes to finding a match.
Who is XWP?
Some agencies do website designs, some focus on the technical stacks. XWP does it all. That puts them in a unique position to help make the Internet a better place. What do we mean?
They're experts in web technology. That expertise enables them to develop world-class software for our customers' websites and publishing platforms. And from that experience, they develop products to even further expand their customer's success.
It's a loop that allows them to constantly improve and grow the work they do all around the web, from open source leadership to client websites and products. Their typical process is simple:
Discover, plan, and execute.
Ready to overcome your digital challenges? Check out their reviews on Clutch.co, check out their work, or Get in touch with their team today.