If you know XWP, you know that we're all about performance. That's why we're so excited to have been named as WordPress VIP's latest Partner Innovator for our work improving enterprise content performance with Parse.ly.
It's easy to think that "website performance" is just agency lingo for how fast your website loads. But in reality, it's so much more. It's a term that touches almost every part of your user experience, including the content you publish.
Now, for the first time, publishers can combine the award-winning technical expertise of the XWP team with the deep analytic prowess of Parse.ly's platform, taking full advantage of high-performance WordPress solutions whilst gaining the ability to tweak their content efforts on the most granular level.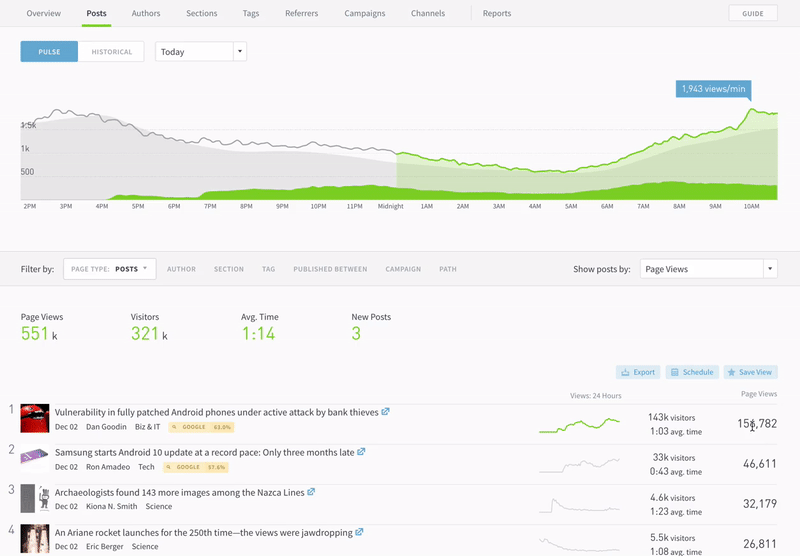 XWP + Parse.ly: Next Level Performance
The Deepest Insights at the Largest Scale
The need for actionable insights is magnified when you're in the enterprise-level publishing space. It's a highly competitive market, and every brand wants to be the one reaching the eyes and ears of the biggest audience.
Making sure you're publishing the right content, in the right place, in a way that resonates with your audience is vital if you want to get ahead of the competition.
But analyzing content when you publish at high volumes has always been very difficult. Most analytics tools on the market don't provide the depth necessary to make informed changes to published content or provide actionable insights post-distribution.
Parse.ly + XWP is the solution. By joining forces, we've been able to provide enterprise publishers the tools they need to create tailored content experiences and drive meaningful results at scale—and we're delighted that WordPress VIP has chosen to reward our collaboration with their Partner Innovator award.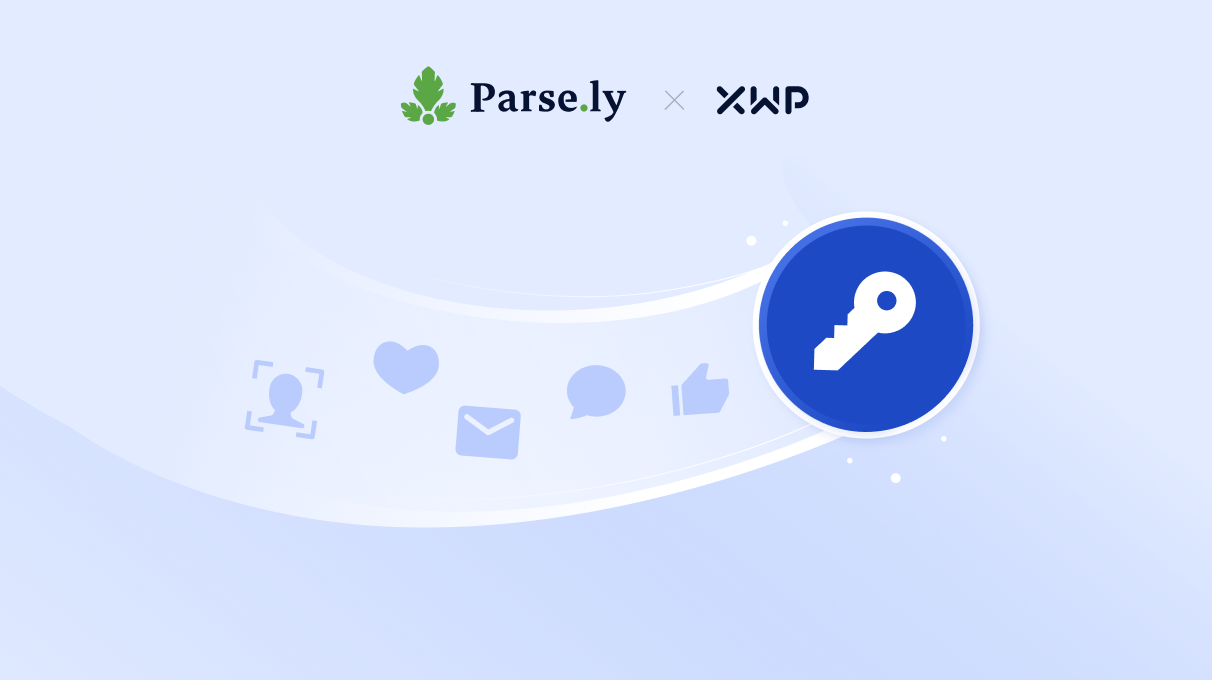 Unlocking Your Data With Parse.ly + XWP
Parse.ly is a content optimization platform built with enterprise publishers in mind. They provide accessible and tangible reporting on thousands of articles almost instantly—and it's all based on real user data. Here's how it works:
Taking Control of Your Platform
XWP can integrate Parse.ly into your existing WordPress setup, boosting technical and design performance along the way. By matching Parse.ly's powerful content tracking capabilities with a speedy and performant website, you'll be able to optimize your user experience at every level.
Not leveraging the power of WordPress yet? We can even install Parse.ly as part of a buttery-smooth CMS migration. (Check out our full list of services to see what we can do for you!)
Painting a Bigger Picture
Parse.ly will start to sift through historical data and will instantly launch real-time tracking, providing actionable insights right out of the box. Learn where your readers came from, how to increase your readership and how to best engage your audience in minutes. It's a long way from analyzing clicks, right?
Better Audience Insights
View your performance across different platforms, channels, and content types so that you can figure out what content resonates with each audience. Save your team hours of monotonous work figuring out who came from where.
Double Down on What's Working
Cut through the noise and figure out exactly what works. Parse.ly tells you which content and channels are performing the best so you can focus all of your efforts on the initiatives that provide the best return. After all, no one likes wasted time!
Accessible Data
Forget manually pulling together data, knowing it'll get outdated. The Parse.ly dashboard displays whatever data you want in an accessible, easy-to-understand format—you can even integrate it with their mobile app, Slack alerts, and email reports.
Rocket-Powered Engagement
Increase engagements with personalized experiences in newsletters, sites and apps. Parse.ly's predictive analytics tool gives automatic content recommendations and immediately drives engagement with a personalized experience for every reader.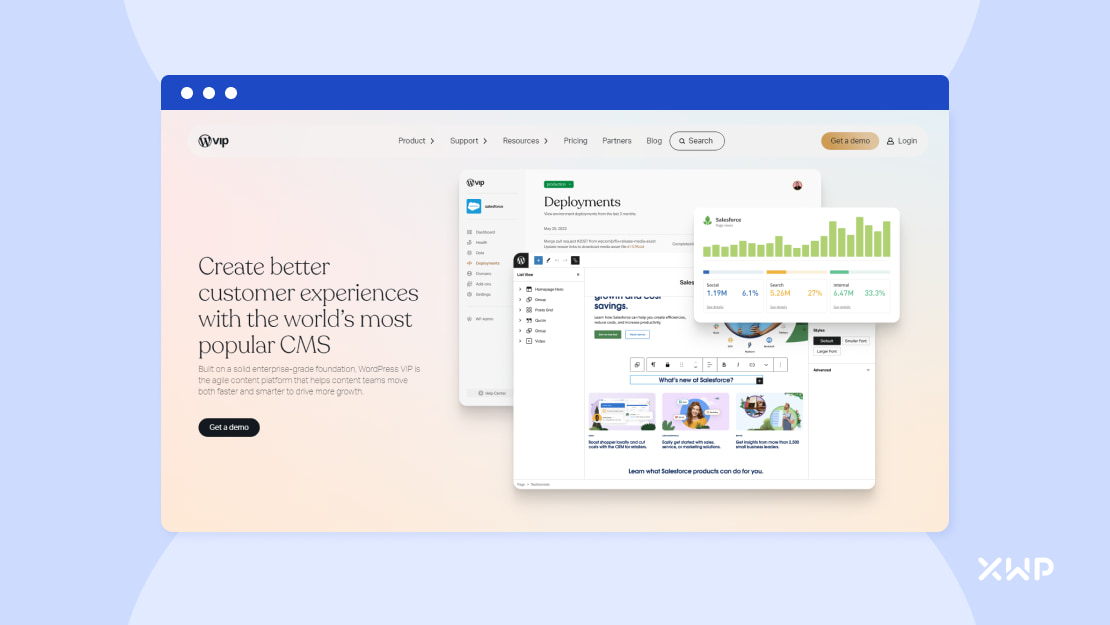 What is WordPress VIP?
It wouldn't be right to celebrate our appointment as Innovative Partner without mentioning those that made it happen, and why it means so much to us!
WordPress VIP is a hosting platform, providing a highly-scalable, highly-performant solution for high-traffic, enterprise sites. Their deployment standards are extremely high, and they've engineered their services to dynamically scale as needed.
They care immensely about the technology behind your website, and making sure that no matter how your digital strategy evolves, your site has a reliable and scalable foundation.
"I was delighted to hear the news that XWP won the WordPress VIP Innovator Award for our work with Parse.ly. For over 8 years, XWP has been honored to be the chosen as one of WordPress VIP's Gold Partner Agencies. We have collaborated together on some very impressive and high profile publishers with a united focus on aligning to our clients' business needs. WordPress VIP's new offering Parse.ly is an excellent example of that. An advanced analytics solution that will allow our publisher clients to be better tuned in and understand their readership"

Amit Sion, Chief Revenue Officer @ XWP
XWP has been a preferred agency partner of WordPress VIP since 2015—and we've had the chance to collaborate on a number of projects in that time.
Because of our long-standing partnership with their team and intricate knowledge of their platform standards, we were able to seamlessly migrate our client's site, allowing them to start feeling the benefits quickly—with no need to worry about security issues or downtime.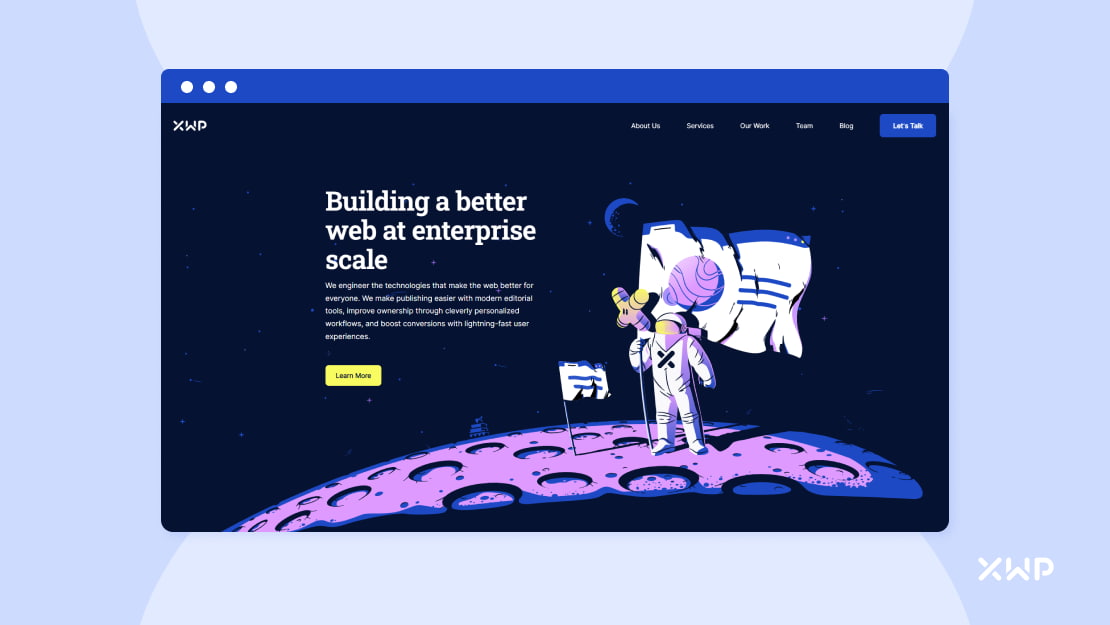 Who is XWP?
Some agencies do website designs. Some focus on the website technical stacks. XWP? We do it all. That puts us in a unique position to help make the internet a better place.
What do we mean?
We're experts in web technology. That expertise enables us to develop world-class software for our customers' websites and publishing platforms. And from that experience, we develop products to even further expand our customers' success.
It's a loop that allows us to constantly improve and grow the work we do all around the web, from open-source leadership to client websites and products. Our typical process is simple: Discover, plan, and execute.