Applications, interviews, test projects, and negotiations are, for most people, stressful experiences. Add the element of a completely remote process, and it can also feel impersonal and distant.
XWP is on a mission to make our hiring journey the exact opposite.
Creating meaningful experiences is a hallmark of XWP's culture, and, as our globally distributed community continues to grow, intentionally building our values and beliefs into each step of the hiring process remains a top priority.
As more companies continue to adopt remote work frameworks, and shift their hiring practices away from on-site interviews, we thought we would give an inside look at how XWP approaches hiring XWPeople from around the globe, while still providing experiences that build community and connection.
Designing the Process
Before a job advertisement ever hits our careers page, social feed, or a job board, there's a lot of work to be done behind the scenes. From collaborative role definition and evaluation process design, to interview canvas creation and equitable pay scale planning, each open role at XWP is customized for the candidate journey.
For every new role that goes live, we optimize the opportunity for connection, and provide a realistic representation of work-life at XWP, all while minimizing bias.
We also believe that participating in the hiring experience should be a mutually valuable exchange, not a unidirectional obstacle course that only serves to establish the power of the business. We see candidates as peers- and want to treat them that way!
All this adds up to a tall order. Here's how we're doing our best to serve it up for XWP Hopefuls:
The Job Ad
We regularly hear from candidates that they really connected with the job advertisement- and this isn't a coincidence. We've structured our ads in a way that downplays the importance of things like degrees, employment pedigrees, and the number of online certifications garnered.
Instead, we focus on attracting folks who strongly resonate with XWP's brand, values, culture, with the skills necessary to thrive in their role.
Here are the sections you'll find (and the reasons why we write them) for each job advertised at XWP:
About XWP
We want to be very clear about who we are, what our community looks like, the types of clients we serve, and most importantly what we value the most. This is the most important section of copy, and the thing that we hope drives candidates to keep reading.
Who You Are
We get a lot of applications at XWP. We want the majority of those to be from people who feel a connection to the values and community we've built here. This is where we paint a picture of what those values look like in practice, in relation to both the open role, and XWP's community at large.
What You've Done
This is where we talk about the practical experiences that lend themselves to success at XWP. We care less about high-powered graduate programs or a FAANG (or is it MAANG?) reference on your CV, and more about demonstrated ability to do the work we're doing here at XWP.
What You'll Do Here
After establishing alignment around character, culture, skills, and experience, we create a space to talk about the actual work applicants can expect to complete. This is a list of both day-to-day as well as bigger-picture accountabilities. This section should create excitement and confidence for future XWPeople.
What Success Looks Like
Why entertain the prospect of a job you can't succeed in? We want to create as much transparency as possible into the expectations for each role at XWP. No one likes surprises, and this section helps set tangible benchmarks for candidates to anticipate as they onboard.
Payscale & Benefits
This is a touchy subject, we know, but we want to take as much stress out of it as possible. We also realize that updating a resume, applying for a job, and interviewing is a significant time investment for candidates, not to mention from XWP's hiring team.
We always add a salary range to job ads to help open the conversation without asking candidates to "go first."
It's much better to establish a baseline of alignment before making significant emotional and time investments in the hiring process. Like we said before, no one likes surprises!

Learn more about our culture from some of our XWPeople on S2E13 of the XWP Tonight Show
The Application
For candidates that can't resist applying after reading that amazing job ad, the next steps are focused on showcasing as much value as possible, while avoiding redundant information requests and minimizing bias.
Here are some elements of our applications that we think are particularly important:
We'll never ask you to upload a photo
Cover letters are completely optional
You can upload a resumé without also manually adding your entire work history
Additionally, we add one important role-specific question for each ad that gives candidates the chance to showcase their expertise. This is one of the most important parts of the application because it lets us evaluate candidates on the merit of their answer rather than their credentials and work history.
Great work! You've applied to XWP, now what?
First, you'll receive an automated reply with links to our culture content. This is your opportunity to read through the articles we've published and learn a bit more about the process. We value transparency here at XWP, and have made sure that we have shared anything we can about the hiring and onboarding process publicly.
Will the Applicant Tracking Software Filter Me Out?
This is a common concern people may have when applying for high-volume roles. Our applicant tracking software does not filter candidates automatically, don't worry. It's a completely manual human process, so please be patient!
Interviews
Congrats, you've been selected!
The next step will be to join a recruiter for a 30 minute role-specific video interview that is designed to minimize bias and reflect our typical 1:1 internal meeting approach.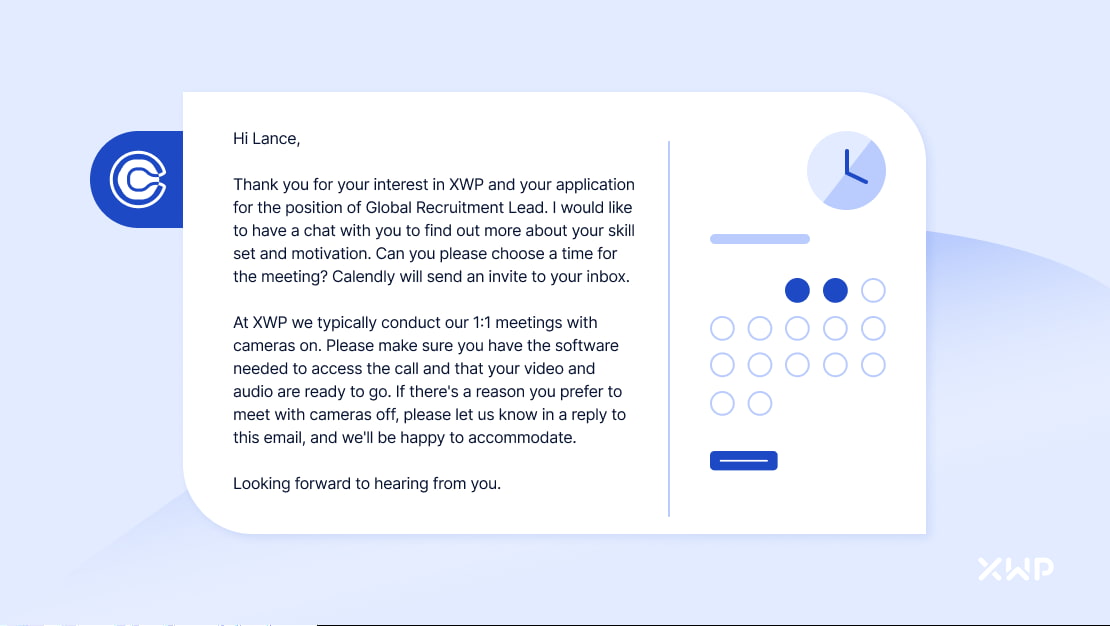 Nice Job! You've passed the first interview.
Some of the roles at XWP will involve an additional interview with a hiring manager, while others will move directly to the next phase of the process.
We conduct role-focused interviews with an internal team member for those applying for positions in our Design, People & Operations, Sales, or Marketing functions. This gives candidates the opportunity to meet a future colleague and talk about the finer details of their craft- using as much industry-level terminology as they'd like!
This also gives our hiring managers the chance to get to know their potential future colleagues, getting to know their background and what they value most in a workplace. Like the earlier stages of the process, what we're looking for here is a good cultural match with XWP: Someone who has a proven background and experience in their field, but more importantly, is ready to learn and grow with the XWP community.
'My primary tip to those currently in the process is not to overthink it. We want to get to know you, and who you are at your core. Just be yourself, and feel comfortable asking questions…We love questions!'

Mackenzie Hartung, Head of Delivery, Hiring Manager for Project and Product at XWP
Trial Projects
Every opening at XWP involves a hands-on trial project as part of the hiring process.
The project itself varies from role-to-role, but always involves the candidate joining our Slack, using the tools and communication channels that would be part of a typical day-to-day workflow, and meeting one or more team members relevant to the role.
We do this to allow applicants to show off their skills and get a better sense of what it's like to work in our remote community. Candidates are able to interact asynchronously with peers that are already onboard and learn in real-time how collaboration works at XWP.
Of course, we know people are busy, and we don't assume that they have the time to prioritize free work in the hopes of being hired. This should be an equitable exchange of value and we recognize the effort and investment involved from the candidate's side.
Our trial projects are much smaller than other remote businesses, typically involving 4-8 hours of investment, and we give a financial thank you to every candidate upon completion- regardless of whether they are progressing to the next stage or not.
Want to see what a trial project looks like at XWP? Take a look at an example brief.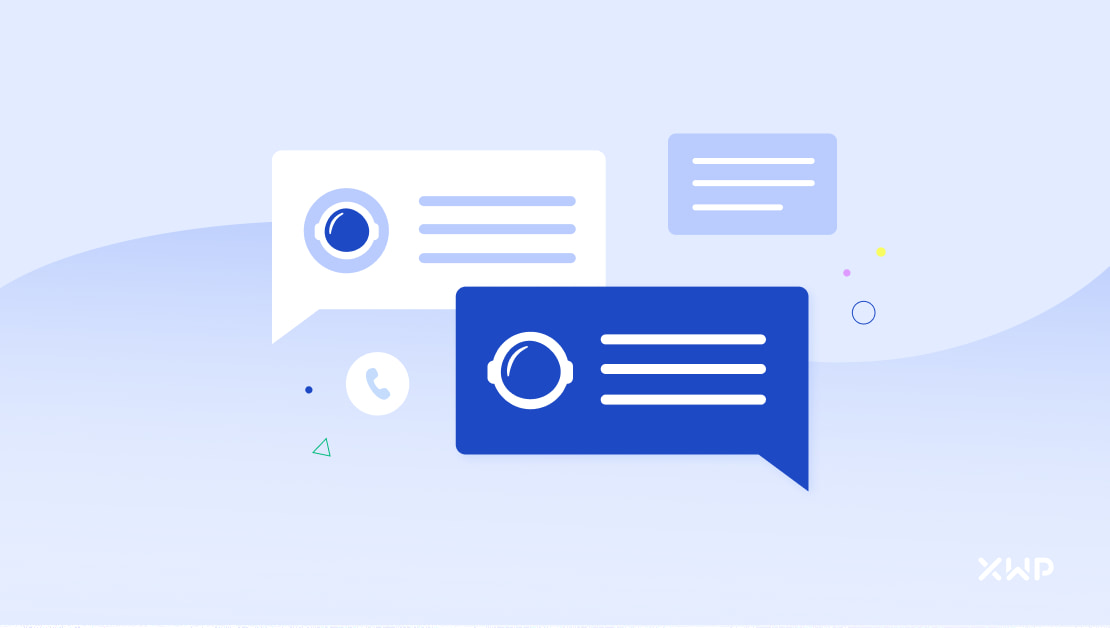 Project Review
At this stage, candidates will have the opportunity to meet again with the hiring manager to review the trial project and ask any further questions.
We offer as much feedback as we can to candidates at this stage. They've worked hard to get to this point and we don't dismiss people lightly. At the very least, the trial project should represent an opportunity to build and grow professionally.
We regularly hear from candidates that they've learned something valuable that will impact the way they approach their work in the future, even if they aren't progressing to the next round at XWP.
A Snapshot into Remote Culture at XWP
The 10 (really 11) reasons I joined XWP and why you should too
The Five Virtues of Asynchronous Communication
Workcations: The Union of Business & Pleasure
Final Interview
By this point, we've had a good deal of opportunity to get to know each other and evaluate whether there is a match.
This final conversation starts with a chance to reflect on everything we've learned and experienced together, so we can answer the question: 'Do you and we believe that XWP provides an environment in which you can thrive?'
If there are any questions you or we still have to understand the match, we can talk through them together, and at this point, we can have final conversations about engagement terms, benefits, and a start date, to make sure all parties are aligned ahead of a written offer.
As part of this, we want to be sure that we're offering you the right level of engagement. XWPeople commonly engage anywhere from 20 to 40 hours per week.
Offer
Congratulations! If we agree together that there's a match, this is the point in the process where that all-important offer letter arrives in your inbox. You can expect this via email, and it will include:
Compensation
Number of hours agreed upon
Start date
After any negotiations have been completed, you'll receive a copy of your agreement to sign and we can move towards onboarding!
Our fully-remote team of more than 100 experts now spans more than 35 countries and 17 timezones. From Canada to Korea, South Africa to Spain, you'll find exceptional XWPeople all over the world, serving our clients and building a better web together.
Want to learn more about what makes us tick? Find out How Remote Works at XWP or Search our vacancies.