Evolving A Visual Storytelling Content Type for the Open Web
XWP loves to help make the web a better place, and so we're very excited to share Web Stories in partnership with Google. Web Stories for WordPress is an open-web visual storytelling format that enables people to create visual narratives with engaging animations and tappable interactions. Designed with mobile experience in mind, Web Stories immerse audiences in fast-loading, full-screen experiences on both their mobile devices and desktops.
What Are Web Stories?
You can't make your own Web Stories great without understanding what makes a story great in the first place. Here are some key facts about Web Stories:

Driven by Visual Media, Not Text
Web stories are experience-focused, immersive and interactive.

No "Walled Garden" or Strict Content Format
Web stories are as ephemeral or evergreen as you like and can be few or many pages

Native, Core Content Owned by Your Team (Not Social Media Platforms)
Web stories are content you own, just like your blog posts and pages.

Fully Indexed by Search
Web stories are indexed and so searchable on the major engines. What good is a story if nobody experiences it?
It isn't often we get an entirely new core content type for WordPress, comparable to pages or posts. According to W3Techs.com, as of November 2021 WordPress is used by 43.0% of all websites. So Web Stories represent a major new tool in the kit of millions of developers and WordPress content creators. Before we dig further into Web Stories, let's look briefly at current multimedia options for the web.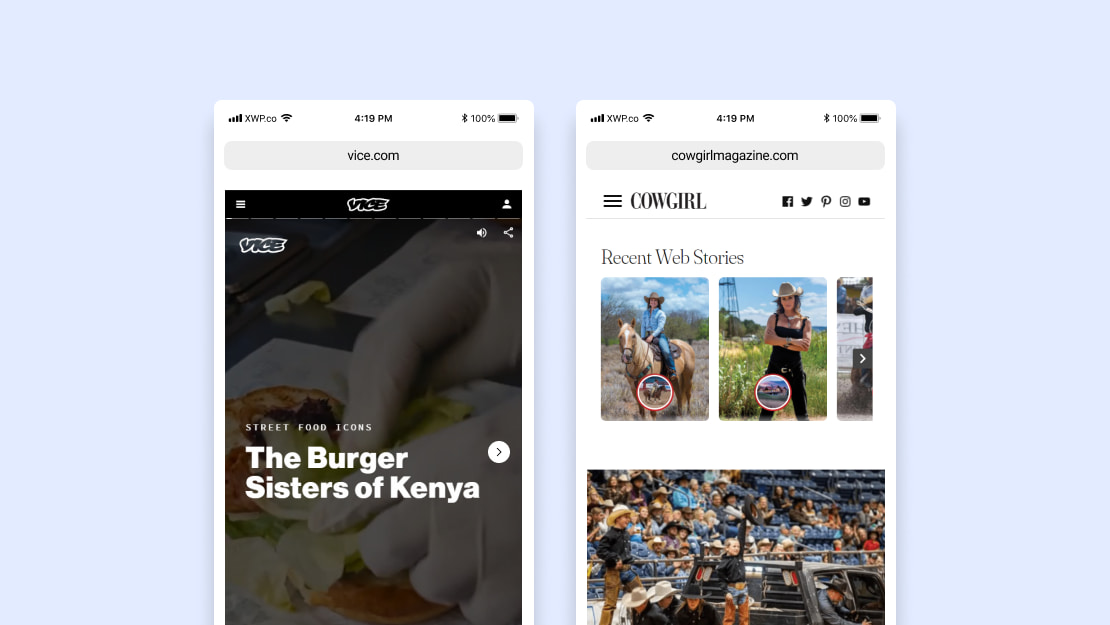 Multimedia Storytelling on the Web
It's helpful to contextualize Web Stories in the broader media experience of the web. Here are some other examples of alternative media to text often used online, which go beyond or augment the default page and post formats WordPress content creators most frequently use.
GIFs
GIFs have been a mainstay on the web for decades. These simple, memetic animations can drive engagement but typically support text like a photo.
Video
Video is another content type that continues to delight audiences and publishers on the web. As people learn of the benefits of including captions with videos, it becomes even more effective. Text and video content are both mobile-friendly on their own and can tell an entire story. However, when combined it can lack elegance and fail to communicate well.
Podcasts & Audio
Long-form audio has become a mainstay of the web and wildly popular, both in the form of podcasts and audio books. People love a good story well told, and these formats are especially popular with mobile users who take their favorite shows with them on the move.
Photo Essays
Photo essays are a storytelling content type that publishers sometimes leverage but they can lack animation, immersion, supportive text and audio. A slideshow can be overlooked and not really immersive without supporting media and a user interface (UI) that engages audiences on all devices.
What has made these core content types successful? They all allow creators to tell their stories visually and facilitate shared experiences across devices.
Enter the Web Story
Thanks to a lot of collaboration, hard work and research we now have a new visual, interactive, multimedia content type: Web Stories.
"I'm really proud of the scope of this project. With over a dozen people from Google, two other design agencies, and our own XWP team, we've all worked so hard to create something that takes Web Stories above and beyond where it was before."

– Morten Barklund (Senior Engineer, XWP)
Before Web Stories, we needed better ways to consume complex content on mobile devices, and ads needed a better experience for both users and publishers. We needed to prioritize UX for shared experience, for the contemporary web. Too often UX is an afterthought, as it's easiest to fall back on old forms of media rather than imagine something new. But good UX means better engagement and higher quality experience.
If you are creating content for the web, leveraging multimedia and if you value owning your own content, you should consider immediately amplifying your content with Web Stories. Let's take a look at some examples and a Case Study of how organizations are using Web Stories to make a better user experience and move the needle on engagement.
Web Story Examples
Here are some references and examples of Web Stories being used by some of the world's largest brands.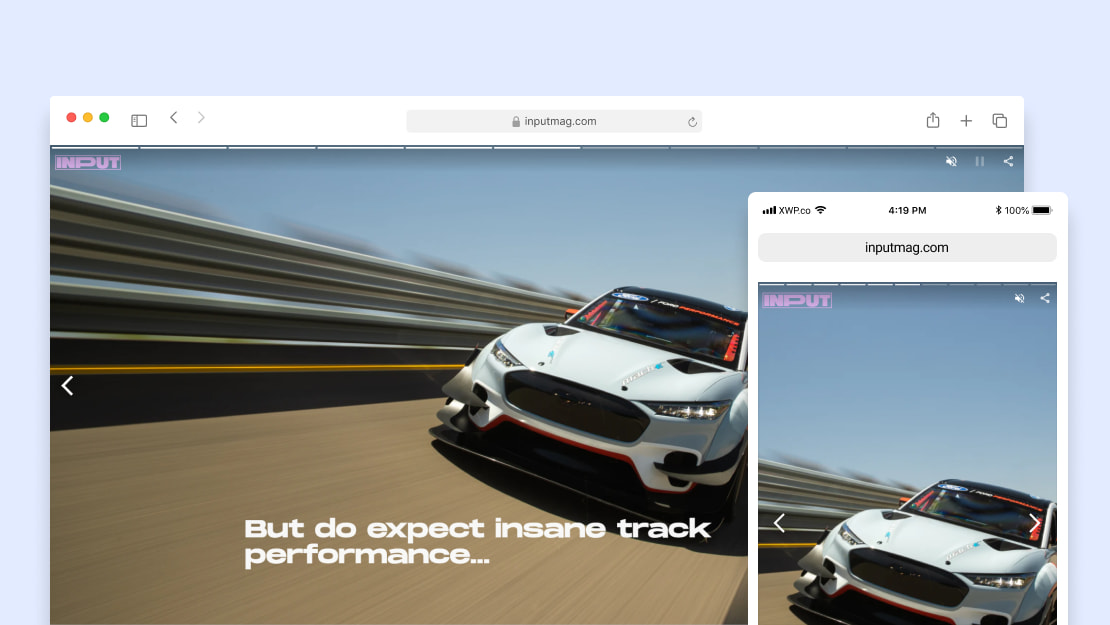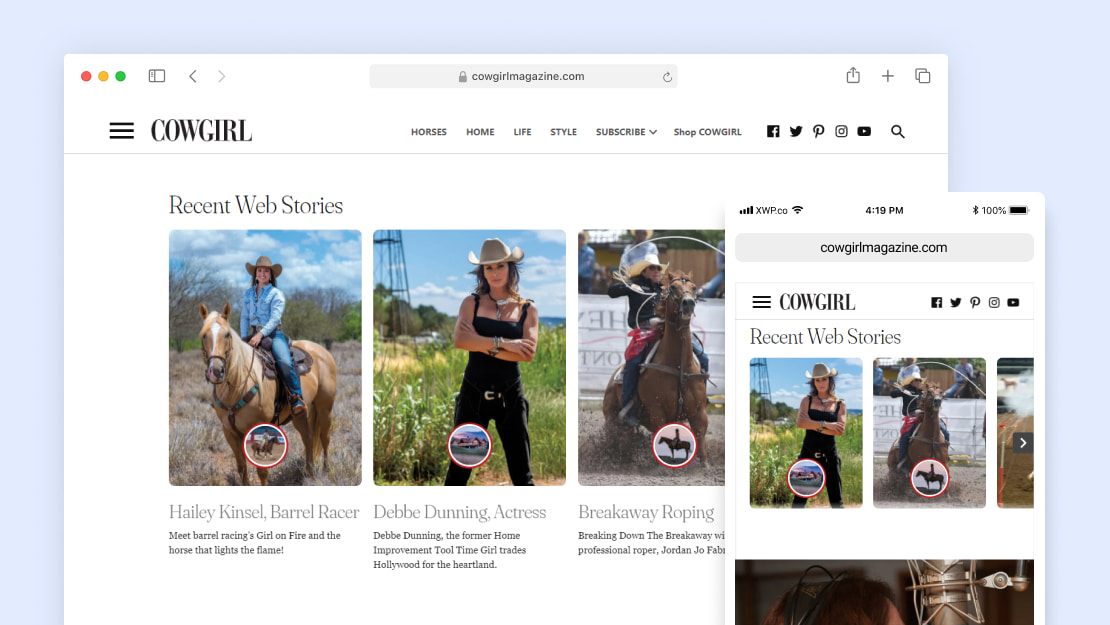 ---
Interested in diving further into Web Stories? Check out the free plugin and learn more about XWP's involvement in the development of this exciting new content type. Because we believe stories move the world, making stories better and more accessible for the web is a worthwhile pursuit and fits perfectly with XWP's mission to make the Internet a better place.