At XWP, we're known for building highly performant websites and applications. More than just a concern of our engineers, however, a focus on performance runs through how our work is defined, designed, and delivered. In this post, I'll share three ways that performance shapes XWP's user experience (UX) design practice.
1. Performance as Measured by Ease of Use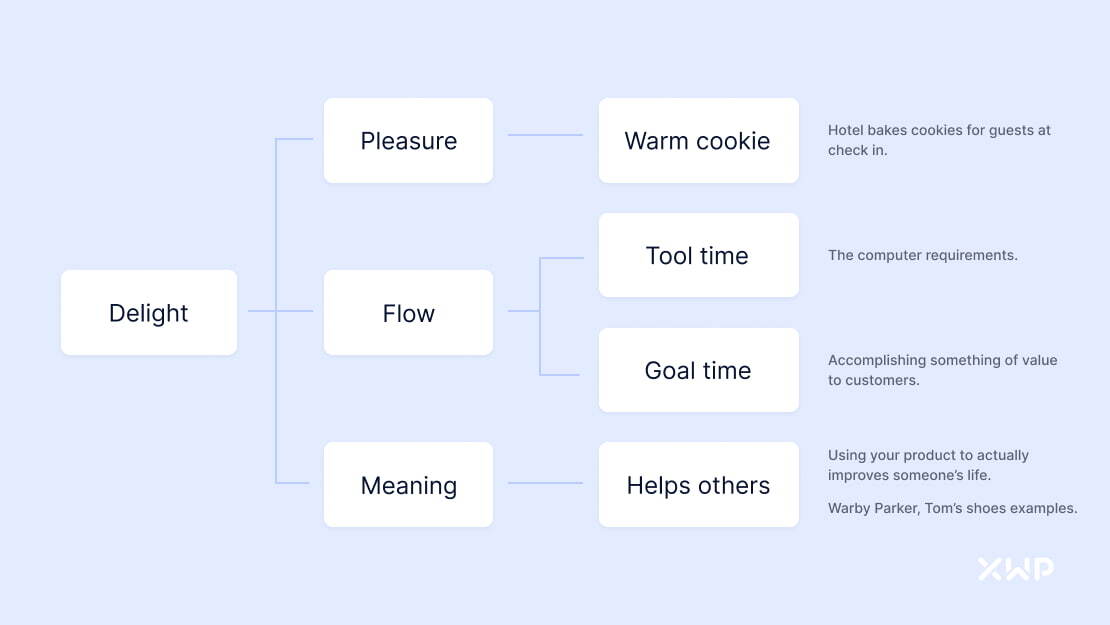 In defining the aspects that comprise a delightful experience, Jared Spool identifies three criteria: pleasure, flow, and meaning. To improve flow, we aim to reduce both tool time (the time taken for a system to perform the requested action) and improve goal time (the time taken to accomplish something of value to customers.)
In 2020, I joined with designers Jackie D'Elia and Monique Dubbelman to create a usability model inspired by Maslow's Hierarchy of Needs. You can listen in as we were constructing the model in a Rethink podcast episode or learn more about the model through the UX strategy article. 
Alongside a foundation built on ethics, sustainability, and inclusiveness, we see performance as among a product's most crucial requirements. Without performance, usability is unquestionably compromised.

Among the elements that impact performance—and usability, as a whole—an application's overall speed is key. It's always a real delight to use a tool that lets you accomplish your goals without breaking your flow! On the flip side, it's obvious when clunky interfaces and slow application response times make it difficult to complete our tasks.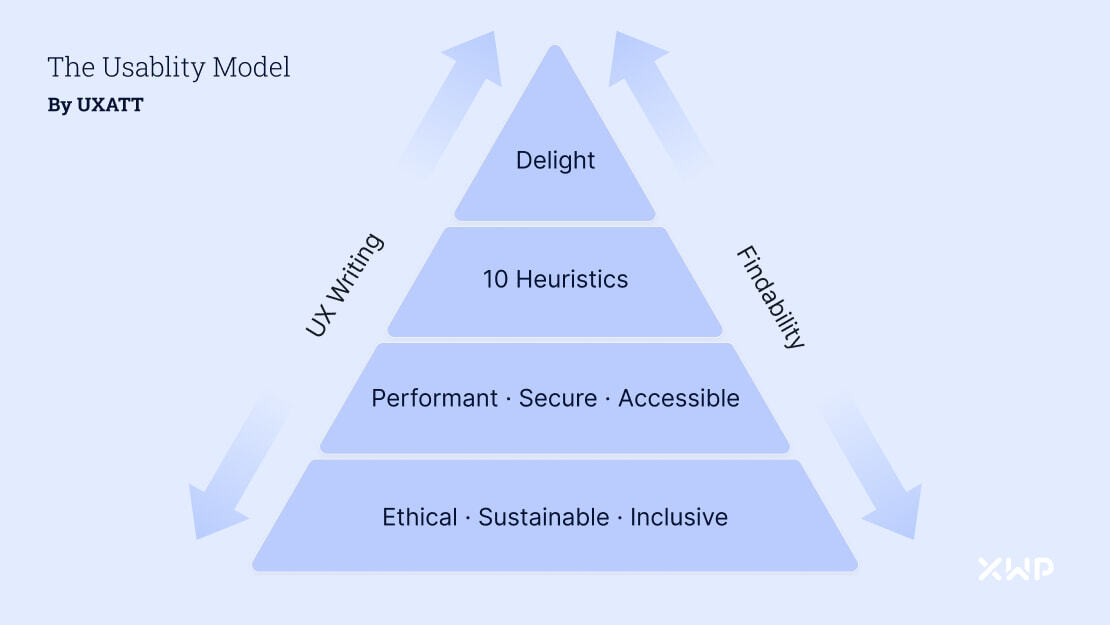 When companies seek to increase business volume, deliver useful features, and increase shareholder profits, a great place to start is with a comprehensive evaluation of their products' user experience, which includes audits of their products' speed. Fortunately, speed is precisely measurable and can be rigorously monitored through continuous performance tracking. XWP are experts in optimizing system speeds, and we're known for getting great results in this critical area.
Speed is only one piece of the usability puzzle, though. Without knowing what matters to users, even the fastest tool will be of limited use. So, beyond optimizing for speed, we leverage user research to create compelling and meaningful experiences. Alongside engineers and product owners, UX designers deliver experiences with velocity—speed plus direction!
Velocity = Speed + Direction
Together, we research user needs and test our solutions so that our clients never need to wonder if we are building the right things. They know our engineers will build it "right," but knowing that we're building the features that solve real problems is a different responsibility.

We help clients avoid investing time and money on features that won't improve the user experience. We also don't make assumptions about who we're building for. Our research methodologies are designed to ensure that everyone on the client and delivery teams understand both the business's goals and the customers' needs.

We know we've gotten it right when we create compelling experiences that customers value and then want to recommend to their friends and colleagues.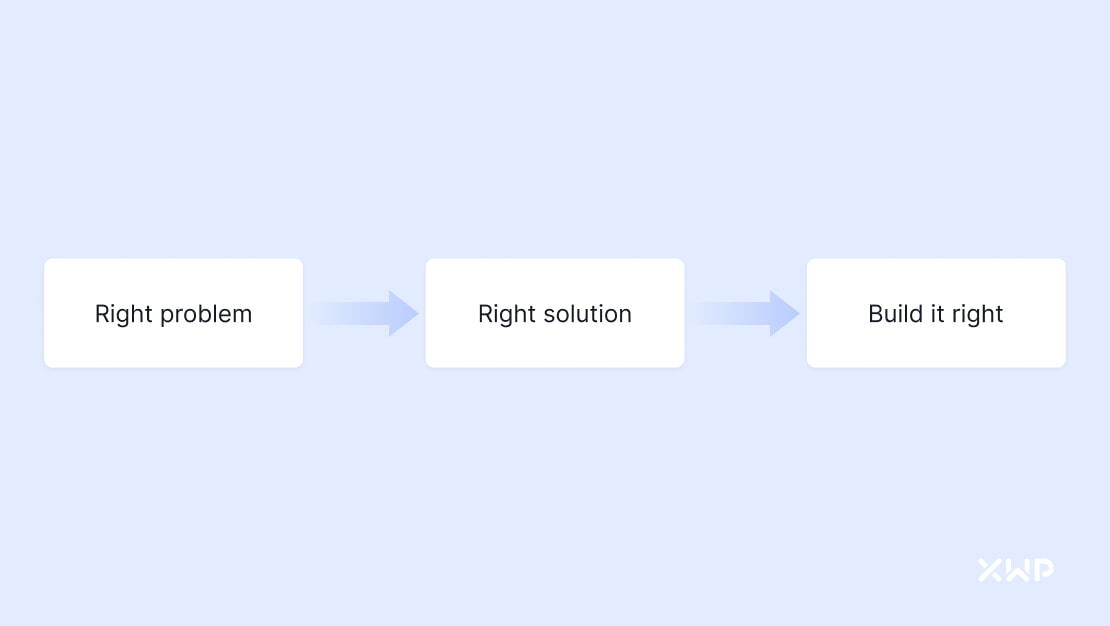 Bringing great research to product development is key to supporting and creating market leaders. To better understand performance from a UX perspective, it's useful to identify what UX researchers look for when evaluating the current experience:
Experience rot (too much complexity or feature bloat)
Missed expectations (failure to meet users' basic expectations)
Ways to exceed basic expectations (delight)
"works as designed' only tells us that the software consistently does what we told it to do. Unfortunately, that's not enough. In fact, it's only the start of the conversation we have with our users and customers. It's the continuous improvement of our systems to deliver increasingly better experiences that helps us deliver real value to them."

Jeff Gothelf, 5 Rules for integrating UX with agile scrum
2. Performance as Measured by Perception of Value
Throughout their journey—from discovery and evaluation through purchase and after-sales support—it's imperative that customers can clearly identify the value proposition of your product or service. This, too, can benefit from the assistance of a UX designer.

With field research, analysis of user insights, and review of product analytics and data from customer support teams, UXers help to identify opportunities to better communicate this critical information. We consider the impact of all customer touchpoints, including email notifications, interactions with the customer support team, landing pages, software interfaces, visual communications, product packaging, and more.
In The Three Reasons Why Your Visitors Don't Convert, Laura Klein claims that potential customers fail to convert for one of three reasons:
They don't understand what you're offering them.
They don't want what you're offering them.
They're not willing to pay what you're asking for what you're offering them.
Luckily, these problems can all be addressed. The most important step toward achieving this is to spend time upfront understanding what, exactly, contributes to customers' underlying concerns. With that information, we can more easily—and quickly—identify the right solution(s) and avoid creating frustration for our users.
The cost of frustration is money or time. Stakeholders and end-users pay the price for slow response times, lack of security, inaccessibility, and poor usability. When we measure the efficacy of our work, we can better understand its impact. As the adage goes: what gets measured, gets done. It is a fundamental part of the UX process and our working methodologies. We use binary UX success metrics that help us answer the question: "did we get the outcome we wanted, or not?" We also use UX progress metrics to measure how well our progress (towards our delivery goals) is going through sprints and releases.
Measure = detection of change
Metric = measures that we track
Analytic = measures that computers can track
Another tool in the UX designer's toolkit for measuring our work is a little different. We can use UX Problem-Value metrics to help us to measure the size of a problem in financial terms. This metric helps us to prioritize the work we want to do.

Additionally, Problem-Value metrics can also inform us on the business impact of features previously shipped. In broad terms, everyone working on a project is making design decisions that impact the end product. Through the application of UX metrics, we can measure the impact of these decisions and optimize based on the findings.
Experience is at the center of my "Software is an Experience" diagram, which outlines the three requirements for delivering meaningful experiences:
The product to needs to exist
We need people using our product
UX design processes and methodologies (strategy and tactics)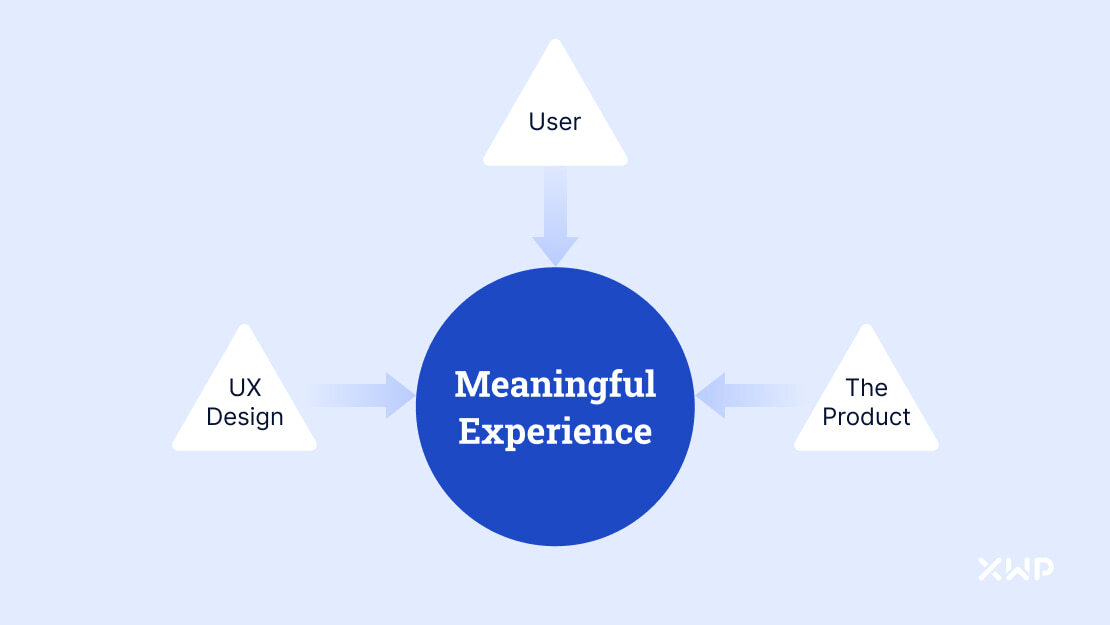 Together, we are creating an experience, not just a thing. The goal is to create meaningful outcomes for our users. Teams often get this wrong by putting the product at the center. That is two-dimensional thinking and assumes that the deliverable is only an output (the code, a visual design, or an application), rather than a desired experience with benefits-based outcomes.
These three things—the user(s), the product, and the design—are all required in equal measure to ensure meaningful outcomes from our work.

How much investment does it take to make customers happier? Naturally, that depends on the scope, complexity, and maturity of your product or service. Initially, we aim to meet users basic expectations. Then, we work to improve the quality of users' overall experience by generating excitement and unlocking opportunities to add meaning. When we do a great job researching, designing, and aligning solutions with users' needs, we increase the chance that our products realize their value proposition. 
3. Performance as Measured by Efficiency of Delivery and Collaboration
Whenever possible, XWP works in a decentralized model, where UX staff are embedded within delivery teams, rather than operating in a silo. In "Benefits of a Decentralized UX Team," authors Kate Kaplan and Kara Pernice from Nielsen Norman Group highlight several core advantages of this approach. Among these are:
Increased trust and opportunity: With UX designers as part of the delivery team, they are more likely to build trust with their colleagues and unlock opportunities to bring the project's focus back to user needs.
High likelihood for UX involvement: In a decentralized model, UX team members are involved in the same planning meetings, activities, and conversations as the rest of the team. Ultimately, this brings more visibility to UX activities and perspectives.
While my personal experience supports Kaplan and Pernice's claims, I've also noticed another, even more significant benefit: the opportunity to build a belief that delivering good UX is a responsibility of the whole team.
Engineers participate in UX design by working to deeply understand user stories; taking part in research activities; and prioritizing accessibility, performance, and security throughout their work.
Project managers, quality assurance testers, and product owners work on UX tactics through writing evidence-based user stories; usability testing; participating in user journey mapping; and documenting their work while testing and iterating. They ensure excellent communication and a single source of truth for all team members so everyone can better focus on solutions for the well-defined outcome(s).
Marketing teams are more informed when communicating the product's value proposition and are able to better support customer-focused sales efforts.
Designers conduct research and usability testing; synthesize findings; lead co-creation workshops; report insights from the discovery process; and create the project's visual and interface designs. Together with product owners, they facilitate important conversations and document the project's vision and goals; identify user groups; and create a single source of truth for teams to move toward throughout the delivery process. We work both strategically and tactically.
This approach helps to ensure both project success and efficiency of delivery. When all team members are consciously aware of, and focusing on, the needs of the customer, we reduce the risk of overlooking pain points and missing opportunities to deliver value.

This makes us highly performant in our ability to identify the right problems in need of solution, which is ultimately more cost-effective for clients. Sales and marketing teams enjoy the outcomes a lot more, too, because we help them to reduce churn!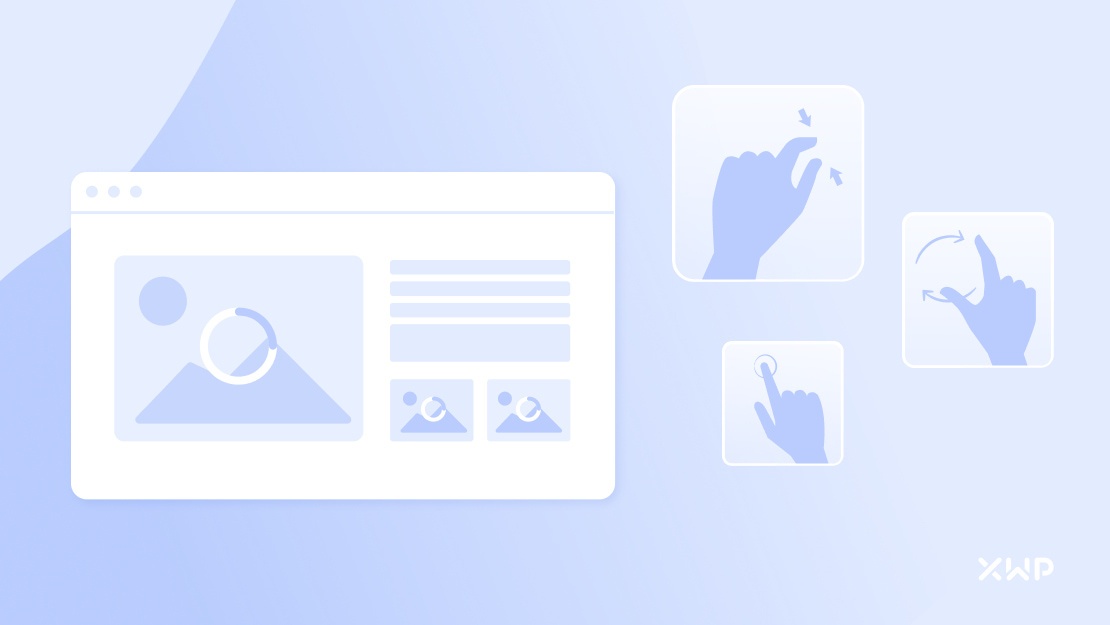 Conclusion
Within the world of digital products, "performance" is often considered as merely a synonym for "speed." And while delivering software that's optimized for speed is an area in which XWP excels, it's far from the only aspect of performance we strive to achieve. Within our UX practice, we aim to deliver products that are performant in their ease of use, ability to realize their value proposition, and the processes through which they are produced.
Design—and the responsibility for delivering impactful user experiences—is not simply a role. It is, above all, a set of skills, knowledge, and experience that we work to share across the entire XWP team. We leverage these skill sets to uncover user needs, define the right approach to meet them, and efficiently deliver easy-to-use solutions for our clients and the customers they serve.